The endless wait for the greatest Sale of 2016 finally comes to a stop with Flipkart Big Billion Days knocking our desktop and mobile screen with offers and deals like never before. Time to tap into your savings account for a Sale like never before, with offers that will blow your mind in billion ways. So make your wish lists, update your address and payment details and get set shop.
Latest Updates on BBD:
Octover 1, 2016: Update:
The Great Indian Sale from Amazon has gone live and the consumers have shown some response to it. Flipkart in the meanwhile made fun of the sale by posting a vid from their twitter handle asking users to wait till the real sale starts on the 2nd of October.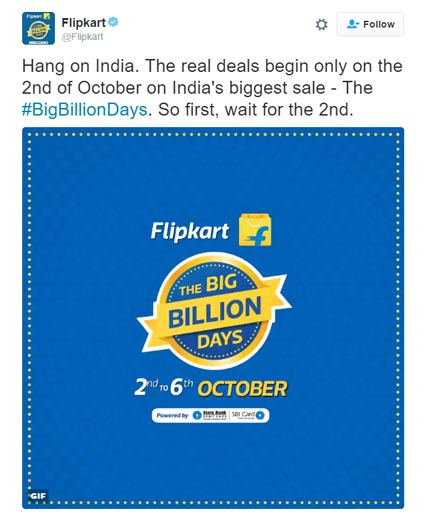 ---
September 28, 2016
Flipkart announced a major giveaway, ₹10 lakh worth of Flipkart Gift Vouchers via the Flipkart Facebook page. So tune into Flipkart's Facebook page with your fingers crossed and win. All you have to do is like the Flipkart Facebook page or join the event and you will get instant updates.
---
September 27, 2016: Update:
Samsung Galaxy On8 is suspected to be unveiled at midnight on the second day of the Flipkart's much awaited Big Billion day 2016 shopping festival on October 3, which is marked as the day of sale for Mobile and Accessories on Flipkart.

Flipkart is already teasing us with some of Galaxy On8 features like, Full HD display with Super AMOLED technology, 3gb of Ram & a power packed battery. Judging by its predecessor model Samsung Galaxy On7, On8 shall be a mid priced budget phone by Samsung.
Mobile Offers on Flipkart BBD:
---
Flipkart Big Billion Day 2016 Schedule:
2nd October '16: - Lifestyle, TV and Appliances:

Browse from the widest range of fashion and lifestyle products from Clothing, Sunglasses, Watches, Dresses, Fastrack Watches, Titan Watches, Timex Watches, Men Shirts, Men Jeans, Women Shirts to beauty products from your favourite brands like Only, Jack & Jones, John Players, UCB and more.

3rd October '16: - Mobiles & Mobiles Accessories:

Get your hands on premium mobile phones from Samsung, Mi, LeEco, Lenovo, Motorola, Apple, Micromax, Asus, etc

4th October '16: - Electronics:

For our technology driven world. Explore great discount on Kitchen Appliances, Mobiles, Laptops, ACs, TVs, smart watch, computer accessories, routers, cameras & more.

5th October '16: - Everything on Sale:
---
What to expect from Flipkart Big billion Day Sale 2nd to 6th October 2016?
The ₹1 Flash Sale from the BBD 2014 might be reintroduced by Flipkart this year. High end products will be available at ₹1.

Flipkart Big Billion Day 2016 comes with an add-on which definitely gives Flipkart a boost over its competitors. Flipkart is introducing the "Buy now & Pay later" scheme for the Big Billion Day sale. The 'Buy now Pay later' option is kind of a shopping loan that comes with interests but is definitely a respite. Flipkart is definitely trying to mend its reputation as we all have been a victim of the payment hassles at checkout.

Flipkart promises to make this BBD sale the most epic offer with real deals and offers and hassle free shopping.

Additional savings on Flipkart Electronic Gift Vouchers (EGV)

Extra discount on shopping through Flipkart Android app.
---
Flipkart Big Billion Day 2016 Offers:
Offers for Flipkart Big billion Day Sale 2nd to 6th October 2016:
Flipkart Big Billion Day Bank Offers: - It's a good day for State Bank Debit Card holders, you get an extra 10% off.

A chance to win Motorola Deck Bluetooth speaker: - Login to win speakers worth ₹8,990 every day during Big Billion Day Sale. 50 speakers to be won each day.

Your Wish Your Offer: - Add your most wanted products to Flipkart wish list and enjoy awesome deals on the top wish listed products.

Exchange old with new: - If you have been forcing yourself to make do with your old phones, furniture or electronics, this is your chance.
---
Insights on Categories and Exclusive Products which will be on discount this BBD:
Flipkart has introduced the Sneak Peek Store this BBD.Dropping hints as to what to expect during Flipkart Big Billion Day 2016.
CRAZY DEAL section is the most awaited of them all. They also have a section with "Major Price Cut" alert! With product worth ₹1,799 available at ₹99 and another worth ₹28,999 available at ₹18,999, some superb deals are awaited during the BBD!!!
So, What's in store for you?
Footwears to get you going - Over 1.14 lakhs of different styles of footwear for men and women from famous brands like Woodland, Reebok, Adidas, Puma and more.

Fashion on the go - Major discounts on top lifestyle brands like Lee, Wrangler, United Colors of Benetton, Vero Moda, Only, etc. Reload your wardrobe with the best trends this season at best price.

Men can be stylish too - Men like their dose of a good bargain. Flip through premium clothing for men at major discounts on Big Billion day 2016 from brands like Jack & Jones, Nautica, Gant, etc.

Flipkart promises a huge discount on your forever desired "La-z-boy".

Minimum 40% off on stylish sunglasses to boost up your everyday look in a jiffy.

Strap on the trendiest watches without a doubt this sale season. Because you are saving more than you spend with Flipkart offers on popular watches for men and women.

Adorn your home with everything big this Big Billion Day, with huge discount on television and refrigerators

Get Party ready, JBL Flip 2 is also supposed to be available at a very low price.

For tech lovers there is good news - Mi flagship phone, Intel laptops and most wanted tablets will be available at flat ₹5000/- off.

Its Gaming time! Rs 11,000 off on gaming consoles.

Buy Google Chromecast 2 at ₹2,999 and cast your favourite TV shows, games, music, movies and more.

Samsung Galaxy On8 is expected to be launched on Flipkart during the second day of Flipkart Big Billion Day Sale 2016.
Stay tuned and we shall update you with all the offers and deals from Flipkart Sneak Peek and Flipkart Big Billion Day.
---
What makes BBD stand out from other sales:
The exciting difference that Flipkart Big Billion Day has with other sales like Great Indian Diwali Sale from Amazon.in and Snapdeal Unbox Sale is they have instant discount on purchases via credit or debit cards. To give you an example:
Imagine you are buying a product for ₹10000. Assume it's priced the same on all three websites. And there is a 10% instant discount on Flipkart and 15% cashback on Amazon.in. There is also 20% cashback on CITI bank on Snapdeal but it's capped.

With instant discount you would have to pay ₹9000 on Flipkart.

With cashback you would pay ₹10000 but you would get ₹1500 back after 90 days. So you can choose if you would like to wait and get more in bank or want an instant off so you have to pay lesser.

Additionally Flipkart offers a no interest EMI option which is really helpful for large purchases. If we take the same example like previous with a 12 month no interest EMI you would get the product at ₹833. So with no interest EMI option the instant discount would not be applicable and you would pay the sale price that flipkart is showing.
Also Flipkart has something rather interesting with their exchange offers. So you can exchange your old products and get brand new ones. So find all the old electronics you wished to get rid off and buy brand new ones by exchanging them and getting that much off.
---
Tips & Tricks:
We have collated a list of tips that you can follow during the sale that would give you the maximum bang on the buck.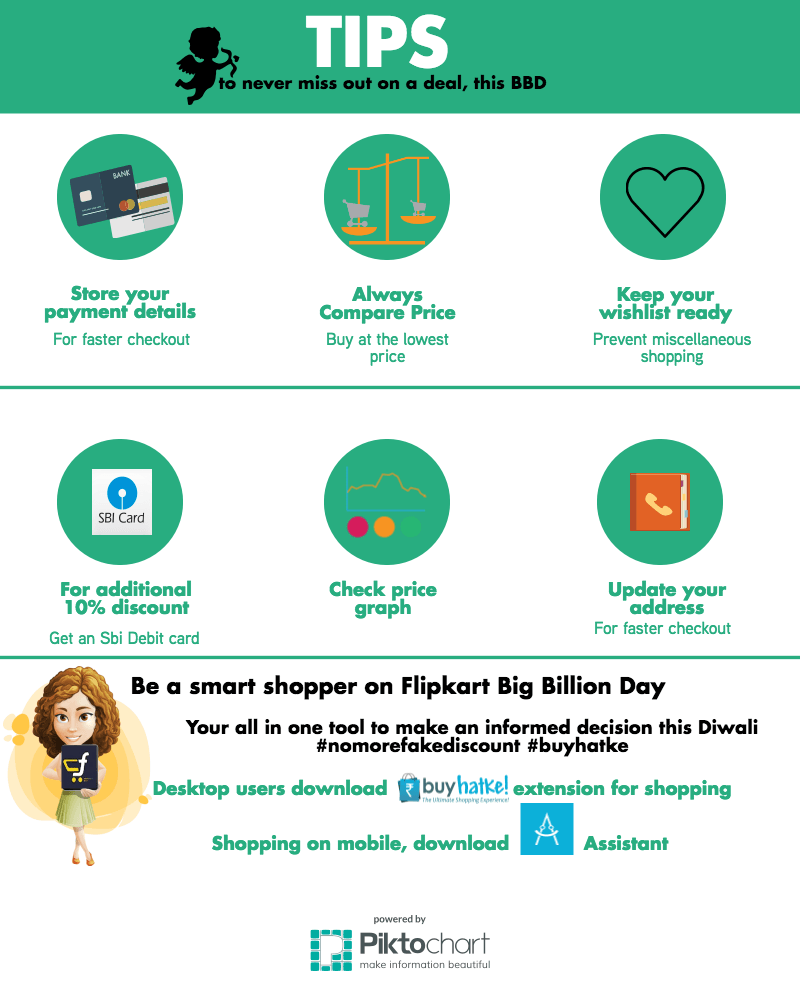 Best of all: - Subscribe to our push notification for instant updates on Flipkart Big Billion Day 2016 offers
---
Contest Zone for Flipkart Big Billion Day
INALSA Appliances Twitter Contest 28th September 2016 - Rate & Review INALSA products on Flipkart & Win #BigBillionDay
---
Frequently Asked Questions about BBD
Would the sale start at 12:00 midnight?
Yes, the BBD sale starts at midnight of 1st October turning to 2nd October.

Is it app only sale?
No, it is not an app only sale. And the same discounts are applicable on web as well as mobile.

What is instant cashback?
Refer to our example about BBD instant cashback. The instant cashback is 10%, applicable on SBI cards.

When will I get my Cashback?
It is an instant cashback offer, so the discount will be offered at checkout itself. You only have to pay the price after discount.

How to avail Cashback?
Flipkart offers Instant cash back, all you need is a SBI debit card, put in the details and the discount will be availed at checkout itself.

What is the return and cancellation policy on products purchased during BBD?
BBD would have the similar return policy like is applicable on other days. More details on return policy are mentioned here

How do I know if it's the best price till now?
For knowing whether the product is actually at the lowest price use the price variation trend to see last 3 months pricing data. You can use price comparison browser extensionif shopping from desktop or laptop and use shopping assistant app if shopping from mobile to see the price variation trend of different products on flipkart website and app.

What is an exchange programme on Flipkart?
With an exchange programme you can exchange your old products and get a discount on new products worth the value of the old product.
---
Flipkart Big Billion Day 2016 Ad: